More Margaret Ruth
Margaret Ruth has been on regional and national radio and television and currently teaches Mind/Body/Spirit and personal enrichment classes for the University of Utah. Her articles have been published in Huffington Post, Astro Girl, Catalyst Magazine, Salt Lake Magazine, Intent.com, and Salt Lake City Weekly.
Margaret Ruth represents the next generation of metaphysical teachers. She has appeared on national and regional radio programs and television segments such as Good Things Utah, ABC 4 News (ABC KTVX), 2 News This Morning (CBS KUTV), KJZZ This Morning (KJZZ 14) and Good Day Utah (Fox KSTU
Articles about and by Margaret Ruth have been published in Huffington Post, Salt Lake Magazine, Catalyst Magazine, The Salt Lake Tribune, IN Magazine (cover feature), University of Utah Chronicle, Park City Magazine, Newsday, The American Tarot Association, Associated Press and more. She is also a featured metaphysical blogger on Intent.com. She teaches Tarot, Palmistry, Numerology, Reading People and Psychic Experiential for University of Utah AOCE division. Timely and fascinating webcasts covering metaphysical, new age and intuition-related topics can be found on Margaret Ruth's weekly show with Jeremy Rasmussen at www.margaretruth.com or on itunes.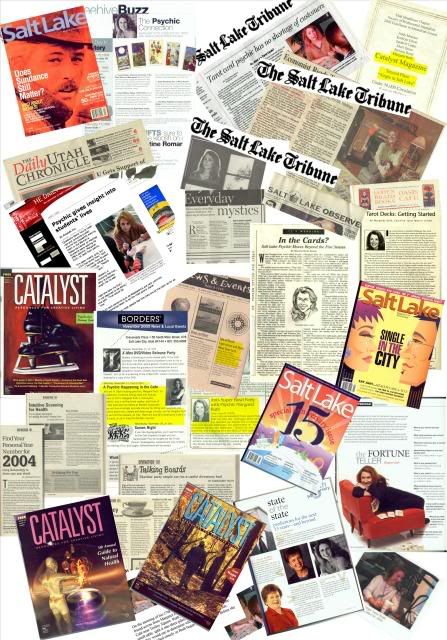 National, regional and local businesses, charities and organizations have contracted with Margaret Ruth: Borders Bookstore, University of Utah AOCE, University of Utah Health Affairs, YWCA, No More Homeless Pets, Salt Lake County Library Association, Nordstroms, Harley-Davidson, The March of Dimes, Sundance Film Festival, Red Butte Garden, Utah Public Employees Association, Rowland Hall, Girl Scouts of Salt Lake City, Salt Lake Board of Realtors, Thanksgiving Point, Utahfm.com.
The bulk of Margaret Ruth's day is taken up by her job as an on-call-door-opener for the multitudes of animals at her home, about whom she talks incessantly. She welcomes private clients and writing assignments so she can have a break from this demanding task. Contact Margaret Ruth for information about benefiting from a personal session, getting some great writing done or taking rewarding classes taught at the University of Utah. Call 801-575-7103 in the USA or email Margaret at mr@margaretruth.com anytime for more information!